1.  To save you money. Isn't it ironic? The biggest reason one does NOT hire a full-service broker to represent them when selling a home, is money. Sellers think that they save big in these circumstances; sometimes paying only a small flat fee to an internet company or a limited service brokerage just to be put into the Multiple Listing Service.
But oh contraire! The old adage, "you get what you pay for" could not be truer than it is in a real estate transaction. The company taking your money to throw it on line does not care about your bottom line. They want your sale, your money, and nothing else. Below are 4 more reasons to hire that local pro, and how they all come back around to saving you money.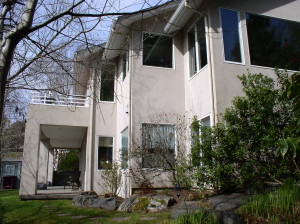 2.  Negotiations. Unless you are a full-time real estate broker, you aren't involved with selling real estate very often. So let's face it; that means you aren't an experienced real estate negotiator. It may look easy from the outside, but there are an unlimited amount of circumstances that can affect the sales price that is initially negotiated. What if the buyer wants you to pay closing costs? Or wants a long close or isn't pre-approved as opposed to being pre-qualified? Have they been through underwriting, yet? How much earnest money is enough?
When you, a home-owner NOT fully represented, negotiates directly with a buyer's agent, it's unfair. It's like going through a wicked divorce while having a huge estate, and hiring an attorney to represent ONLY your ex-spouse! Sound like a smart move?
And there's more to negotiate than just the initial sales price. Should you pay for the buyer's upgraded title insurance policy? Are you going to let your buyer move stuff into the garage before closing after they threaten to back out at the last minute if you don't? Who's paying for the propane left in the tank, or paying to get the hot water heater out of the lease?
Mis-negotiating the initial sales price could easily cost you thousands. 
3.  Contractual Expertise. An experienced real estate broker is an experienced negotiator, but they are also experts in the minutia of a real estate contract, particularly in those facets of a transaction that can keep you out of hot water. When is a disclosure required? Who should hold the earnest money… escrow or the buyer's agency? And when do you keep that earnest money when the deal goes bad? Which of your utility bills are lienable against your house? So what if the detached garage actually sits on a vacated alley owned by the city?
If you don't know all the answers, who are you going to ask? Your attorney for a fee? Google? A full-time broker is constantly involved with these questions and answers. Rely on the local expert who does this for a living; not your cousin who used to be an agent in California 20 years ago, or the faceless customer service rep who stuck your house on line.
Buying that refrigerator or hot tub that you didn't know was on the contract, could cost you big.
4.  Referrals and Resources. You just found out that your septic tank has a crack in it, and you are in the middle of a sale and need it repaired yesterday. Will the local authorities even allow it? The limited-service company out of Spokane is of no help. Are you going to let your fingers do the walking and trust strangers? Even if I don't happen to represent you, I would suggest NO!
Sadly, there are local companies that are notorious for over-charging their customers. Do you know who they are? True story: I once witnessed a single mom charged over $200 for a "plumber" to spend less than 3 minutes under a sink, and who THEN tried to sell her a secret enzyme for the drain field. She had her checkbook out when I intervened. Before the words "take advantage" came out of my mouth, the salesman scampered and said it was on the house.
A local, full-service real estate broker knows who to know. At any given point, your agent should be able to list several inspectors and contractors, a few title officers, surveyors, site planners, and perhaps the department heads to talk to at the city and county.
Let's say you need a roof certification; what are they and do you know which local company offers them? And which ones have the cleanest verbiage in their warranties?
Being sued for a roof because the 5-year roof cert was inadequate, could cost you thousands. 
5.  Peace of Mind. Ok, POM is a good thing, but it really won't save you money, right? Well, consider this: the absence of peace of mind is stress. Stress causes physical illness and mental anguish. With that added stress and the added time it takes to perform full-time duties of a professional, are you performing your own job efficiently? Are you missing hours or even days of work? I was just involved in a transaction with a seller using a limited service brokerage, and on several occasions, she had to leave work to accommodate showings, negotiations, and inspections. She was worried about who was in her home, and had no agent that could put her mind at ease. Stress can manifest itself into every aspect of your life, and can have quantifiable consequences. 
If you are contemplating selling your home this year and want to save money, make a smart move and talk to a full-time, local real estate broker. It just may be the best investment you make in 2015.