Builders are getting requests to create hidden rooms in private homes, to serve as home offices, reading rooms, home theaters, wine cellars, children's play spaces or security zones.
"People are realizing they're not just for the movies, anyone can have one," said Steve Humble, president of Creative Home Engineering in Arizona.
His company designs and creates disguised entryways to hidden spaces — everything from stone walls that open up, armoires with a trap back door, and of course, the bookcase that unveils a concealed room.
Entry into a clandestine spaces can vary, including pulling off the homeowner's favorite book from a shelf, touching the right spot on a wall, or even having to play the right series of notes on a piano or moving chess pieces in the right order to get a wall to move.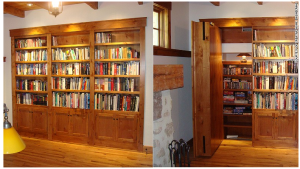 Humble said requests for incognito doors has increased in the past few years, and that the trend has shifted toward security recently. About 30% of his business is creating designs for high-security rooms, which can involve bullet- and soundproof doors, integrated alarm systems with surveillance and retina or finger scans.
Some ultra covert clients don't want anyone knowing about a concealed room — even the people building it.
"Occasionally, there is someone who doesn't want the contractor to know the secret," said Humble. "The crews and professionals think the room is an ordinary room, then after they go, we place the secret door."
SOURCE: http://money.cnn.com/2015/03/20/real_estate/secret-hidden-rooms-homes/index.html